KENT,WASHINGTON -JULY 24, 2023 The United States Air Force has awarded Pacific Propeller International (PPI) a sole-source five-year $74 million dollar repair and overhaul contract supporting foreign militaries operating the Lockheed C-130 with 54H60 propeller and components. For decades, global C-130 operators have used the tough, reliable 54H60 Hamilton Standard propeller system in a wide range of operating environments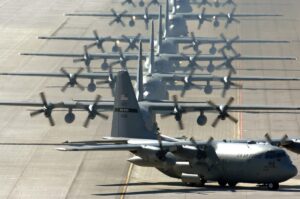 .
The effort will provide overhaul repair capability for the United States Air Force (USAF) and multiple Foreign Military Sales (FMS) customers throughout the world by establishing a worldwide solution to accomplish depot-level maintenance (OLM), consisting of, but not limited to, inspection/repair/overhaul/transportation and modification of 54H60 Series Propellers, Propeller Blades, and Integrated Oil Control (IOC), including applicable Safety of Flight (SoF) modification, and Time Compliance Technical Orders (TCTOs).
With 50+ years' experience maintaining this propeller, PPI was selected as the MRO industry leader already well-established internationally with the C-130 community.   "This dynamic new FMS maintenance channel efficiently provides operators a smooth link to our experienced, technical experts, dedicated support team and state-of-the-art facility and equipment," states Jeff Heikke, PPI and business group CEO.  "Our goal was to incorporate new, stringent technical and inspection standards while improving throughput and turn time for our customers."
Although the program is primarily focused on Foreign Military Sales, the USAF has the option to utilize the PPI contract for MRO services supporting urgent or overflow requirements for the U.S. military C-130 fleet.
Buddy Tobin, PPl's Vice President Sales, knows dearly the customers' needs and recognizes the solutions and value this contract provides.  "We understand military fleet readiness is the highest priority. As the premiere MRO facility for 54H60 propeller services, our reputation delivering safe, high-quality props, and having the resources, assets, and production to back it up were essential during preparation and negotiation." PPl's international reputation was built on strong relationships and face-to-face discussions. "Our team is ready to meet with each FMS Country Manager and operator directly." adds Buddy Tobin.
"Having unmatched MRO services and the most efficient delivery turn times of propeller systems in the industry, with two complete production lines, is not only a function of capacity and productivity, but it also relies on having the necessary parts and components on-hand," says Jared Flynn, PPl's General Manager. "Our team has done a fantastic job of preparing for the workflow, and a 54H60 parts inventory second to none. Sourcing challenges had to be resolved and we did just that. We are ready."
https://www.defensedaily.com/contract-awards/contract-award-pacific-propeller-international-llc-doing-business-as-ppi-kent-washington-22804292/